RELEASED: 29th January 2014
Rock Star Spanked
George is a young man with a lot of attitude! He is in a band and gets a lot of attention from the fans and this seems to have given him a lot arrogance.
George has a girlfriend....
George also decided to have a second girlfriend!
The second girlfriend found out that she had been lied and cheated too and wanted revenge!
So George was given an ultimatum! Go and visit local spanker Mr X for punishment or she tells his 'real' girlfriend about his sordid affair!
George turns up at mr X's house and this arrogant straight lad has no real idea what awaits him.
He soon discovers that he he due to get spanked and still thinks that is a joke!
Mr X is used to dealing with cocky arrogant young men like George and soon has him over his knee!
Stripped of all his clothes and squirming around of Mr X's knee as the spanks redden his bottom this young man soon loses a lot of his arrogance!
It's not just spanking though as George also feels the belt hard across his already sore and tender bottom!
(This movie is a whopping 30 mins long which makes the file size 805mb, so please be patient as it may take a little bit of tiime to download)
"""More From Producer Dave........ It was a great pleasure working with George. This was his first time filming a mm spanking video with me and he took to it really well. He is acting was superb in the opening scene. I would like to make it clear that in real life George is actually a very pleasant young man and not the arrogant young punk he played so well. However, when it came to the spanking there was no acting involved. He asked me not to give him any breaks as he just wanted it over and done with. So this was shot in pretty much one take. The spanking was very real and hard and George took it incredibly well"""
(if you have come here looking for gay spanking videos you are in the wrong place as George is 100% straight)


STREAM
VIDEO
Available streams for iPad, iPhone, Android, Chrome, Safari, IE or Firefox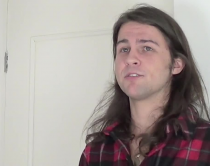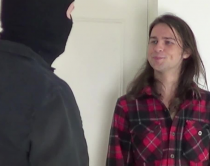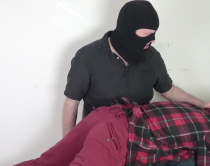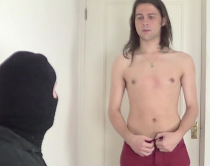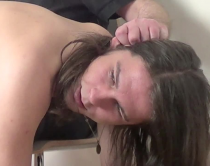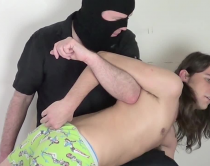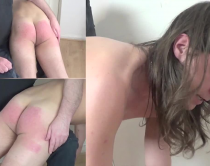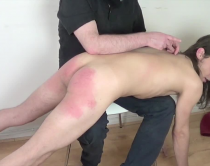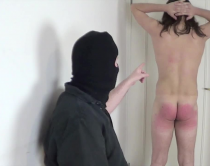 NovaDad
|
Voted Video 10/10
| 30th January 13:40
Wow! George is great!! I hope we'll be seeing more of the Rock Star. If George is featured in future SLS videos, your regular lads might have to up their game. BTW, I for one like to see a lad being spanked on the top of his thighs. Thanks. The only thing I like even more than watching a lad being spanked above and below his gluteal folds is watching a lad being spanked within his gluteal cleft.

(_!_)...(=!=)...(#!#)

Dave - Straight Lads Spanked
|
Not voted video yet
| 30th January 14:08
Wow! Novadad! I wasn't quite sure how George would be received but your comments exceeded expectations! So what do all think, would you like to see more of George?

r1108
|
Voted Video 10/10
| 30th January 17:33
George looked like he was having fun with the opening dialog :); I think he fits in well with the SLS image and will interact nicely with the others. He kept up the attitude for quite a while but the belt was the turning point I think. Yes, I think we need to have George back :)

matt
|
Voted Video 8/10
| 30th January 19:13
It's great to see a new model. George is really sexy. He may not be as muscular as some of the other lads but he has a great, natural body and a sexy face. He's also a really good actor. Very convincing as the cocky, arrogant guy who needs to be taken down a peg. I love the scenes where the tough, masculine guys get totally humbled by an embarrassing and painful OTK spanking and end up saying "yes, sir" and "no, sir". So hot. I like the long hair but I also think he'd look great with short hair. Either way, let's see more of him. There's something manly about George that makes me think, he'd be a good spanker, too. And since he's so comfortable with acting and lines he could certainly take the other role. I'd love to see Dom or Adam over his knee. Maybe he's a boss or a young step-dad. Anyway, this was a great, new story, Dave. And as always, great job cutting, Art. Thanks to all involved, especially George.

lorilee
|
Voted Video 10/10
| 30th January 23:08
I think George is a very good looking lad and can take one H..... of a spanking, loved the hair the eyes and his attitude hope he stays around for a while. If " only I was younger" loved the whole video from stat to finish Great job to all. Welcome to SLS George. Would love to see him in a (WTFGH ) just a thought

cami
|
Voted Video 10/10
| 30th January 23:37
I have to say this is 1 of my favorites i loved how George has is attitude i hope we will see him again. His acting was spot on & i love guys with long hair too lol. Awesome job george for being your first movie. I hope we will see you more your great acting job & Mr.X you did not hold back at all that was just an awesome movie... This is an other movie i can watch over & over again.. & Art you did an amazing job with the movie... & also i loved the story line too. :)

cami
|
Voted Video 10/10
| 30th January 23:37
would help if i voted :P

welshboy
|
Voted Video 9/10
| 1st February 03:17
Wow you would not think that this was George's first film. He was so good from the time he walked into the room. I loved his attitude and his acting through the film.
It's great to see a guy with long hair come along, and if he is this good on the first film were can he go from here. Very well done to George and to Dave you have a very good eye for the right kind of guy to spank and to Art you do such a great job with all these films to make them look so great. Well done to all for one more hit.

flashgordon
|
Voted Video 9/10
| 2nd February 07:07
An excellent one! George is a wonderful recruit: his long hair is lovely, and (a personal foible of mine) a body without tattoos is such a treat. And his acting is brilliant: his attitude is so irritating that it doubles the pleasure of seeing him given a good hiding! Please can we have George again? And yes, if "he does the spanking", then by all means, bring it on, let's see that too!

jamesy500
|
Voted Video 9/10
| 3rd February 05:11
A superb performance from 'George.'. He certainly knows his stuff; just the right side of 'acting' and his'''encore' comment made me laugh out loud... not something I often do when ... er ... watching a vid. I love - as others have said - the 'switch' moment when the performing stops and the reality takes over and this has one of the best examples. Great.

CassieAnne17
|
Voted Video 9/10
| 6th February 20:24
All I could think when I first saw it was how HOT George is! :) lol Normally don't comment much on things even though I enjoy all the guys on this site, but just had to say something this time. And I also love the long hair! More please!

Rasputin
|
Voted Video 1/10
| 8th February 10:57
Sorry, Dave, but this is the worst video you've ever released. I kinda liked George's cheeky attitude, but he is DEFINITELY my physical "type", and his reaction to his spanking is too stoic.

Rasputin
|
Voted Video 1/10
| 8th February 10:59
In my earlier submission, I meant to say George is DEFINITELY NOT my physical "type".

Sorry about that.

tinhead1
|
Voted Video 9/10
| 10th February 12:12
Rasputin, without wishing to turn this debate into a parody of Forrest Gump, this site is kind of like a box of chocolates and every now and again the dreaded Coffee Cream will show up. To be fair I get more Coffee Creams than most as I tend to prefer the lads spanking each other, and a good deal of this site does not include that,

But each video / session is unique and involves different kinds of straight guy. I'm thinking Dave has to employ the 'scatter-gun' approach here, doing what he does and rekeasing different types of model / scenario each week, otherwise someone will always rate the vids as low as you did (and I have done, once).

As for George being stoic - this is his natural reaction. That's what 'makes' the videos for me (and I suspect the majority of Dave's male/female audience). Leave Oscars to the silver screen, or over-acted 1980s spanking movies. This stuff is progressive - I want it to stay that way.

tinhead1
|
Voted Video 9/10
| 10th February 12:17
Just to clarify my point about acting, I am talking about his reaction to the spanking itself. I love a roleplaying scenario, personally - but I don't want to see guys moaning and hissing about the pain when all they are getting is some hand slapping or similar.

Dave - Straight Lads Spanked
|
Not voted video yet
| 11th February 15:38
Well Rasputin.....I appreciate all kinds of feedback. As for it being the worst film I have ever made, well that of course is a matter of opinion. This movie is now ranking at number 7 of all time popular movies. This is a genuine result and is voted by the viewers and it reached that despite you only rating it 1 out of 10.
As for George's acting being to 'stoic'. I have had this discussion with you many, many times. The lads don;t 'act' during the spanking. No direction is given. There bottom gets spanked for real and what you see on screen is their true reaction. I will never, ever instruct the guys to fake some kind reaction to getting spanked. This is what nearly everyone else other than yourself likes about this movie... You see the cocky young man with the attitude but when the belt comes he finally breaks.... not in a dramatic way but enough for everyone to see that the belt is really getting he message home. There is no way, in real life that a guy like George would be over expressing his pain whilst getting spanked in the same way that the tough lads at school back in the day would do whatever thy could to hide their pain whilst getting caned/tawes.

As for being the worst movie ever? I think it looks great. The spanking is intense, the acting during he opening scenes is some of the best I have seen in any of my movies and the lighting works well. Of course the editing is also superb. Never mind it being nearly 30 mins in duration.

Rasputin
|
Voted Video 1/10
| 12th February 20:06
When I referred to George's "stoic acting", I was referring to his reaction to his punishment. In the future I am going to have to use the phrase "response to his spanking" instead of "his acting". More words are required, but it is more accurate.

I have no desire to watch a spanking video in which a guy "over-reacts", i.e. he violently kicks and squirms and sobs and howls at the top of his lungs, in response to a few mild swats on his butt. That would be an unrealistic response. Fortunately, the "tops" in Dave's videos administer spankings that are quite a bit harder than "mild", so the punishments are fairly realistic.

There are many models on this website who have displayed varying degrees of demonstrativeness in response to their spankings - Andy, Bailey, Ben, Patrick, Harry, Jay, Liam, Oliver, Fred, Sebastian, Wayne and others. They reacted differently, but they did not over-react, and their reactions were convincing and realistic. Even studly Tommy, who I criticized for an over-stoic response to his spankings in his early videos, finally got it right in his "Wait Till Your Father Gets Home" video - his reaction to his spanking was restrained, but he actually convinced me that he was really feeling pain and humiliation. Dave says he doesn't coach his models, so I assume that these guys naturally responded to their spankings.

George's arrogant, punkish "rock star" persona was a nice touch. However, his deadpan reaction to his spanking did not convince me that he felt pain, that he felt humiliated, or that he had learned his lesson.

The worse part of this video was George's physical appearance - skinny, long-haired, unwholesome, unattractive. If Bailey is (in my opinion) the best spanking model on this site, George is the worst.

Dave, don't get me wrong - the technical aspects (set design, lighting, camera angles, editing, etc.) of this video were fine. However, my extreme dislike of the model's physical appearance, and his non-demonstrative response to his punishment, caused me to give this video a rating of 1 out of 10.

I figure if you don't like it, don't watch it; but, that's just me.

Personally, I loved this movie and want to see more shows with George, either with him being spanked and/or spanking someone else. Mr X, you said he's a pleasant person, so, if being a snotty little jerk is not his true nature, he did a great acting job.

What's not to like? Good looking, beautiful long hair (please don't let him cut his hair). Please, please. more George!!

Appreciate the technical work put into these productions. Also appreciate the way you let us know if there's a problem in the production, such as the troubles yall had with the bath brush moving starring Bailey. Don/t get me started on Bailey or Ben ... WOW!!!

Please keep up the good movies you've been making. Thanks.


Sorry, that's supposed to be bath brush movie and don't has an apostrophe, not a slash.

rm7guy
|
Voted Video 1/10
| 17th February 04:15
I want to know what Tinhead has against coffee creams!! Send em to me!

rm7guy
|
Voted Video 1/10
| 23rd February 18:46
I have tried this one but sadly have to agree with Rasputin. Nothing about George does anything for me at all, especially the long hair, but that is only my opinion and there is plenty on here for me so by all means bring George back for his fans :)

Dave - Straight Lads Spanked
|
Not voted video yet
| 9th March 05:00
rm7guy, appreciate your honesty and sure, it we be a weird world if we all liked the same people! :)

M X, I'm new to this site and it's just what I've been looking for ... male spanking male, without the groping and sexual innuendos and actions some other sites have.

I messed up on the rating and wound up giving it a 7, when I actually wanted to give it a 10; since it's one of my favorites

uchikimatsu
|
Not voted video yet
| 13th May 21:44
WHAT?!? George is PHENOMENAL! What a natural actor, loved, loved, loved him. Please Dave get him back ASAP! I've never been inspired to submit a story idea before as I'm perfectly happy with all of yours, but George inspires me and I'll be depositing one in the suggestion blog soon!

Aimee1234
|
Voted Video 9/10
| 15th May 15:52
I really liked this video. Georges acting was fantastic in the opening discussion. Some of the best displayed on SLS I think.Really fantastic for a first movie. Well done George. As for previous comments on the acting being stoic, I found it absolutely believable and in keeping with the persona created. It sat well with me. You aren't going to be attracted to every model though I personally find George rather handsome. I think it is commendable to have models of varying body types so that there is a little something for everyone :-)
of course everyone is entirely entitled to their own opinion.
well done Art & Dave as usual on another great video.


George was fantastic and cheeky but Mr X soon sorted him out nice bum love his hair and his accent so sad that there doesn't seem to be any more movies with George would have loved more xx

Cherylkay
|
Voted Video 7/10
| 30th September 17:34
Well, that was a fierce spanking George took. Giving the belt on a first visit is a pretty drastic action, but I think his petulant attitude called for it. I really like how stoically George took his spanking. Yes, I do love it when there's leg kicking and pleading, too but if everyone responded the same way, the videos would look pretty repetitive. Everyone is different in how they react and how much they can take. George could obviously take a lot. He may not have kicked and begged, but he was feeling it. I wouldn't expect a guy like that to immediately start screaming on the first spank.

Physically, George isn't my ideal type. But I appreciate that Dave tries to bring in different types. George's surly attitude and "I'm-all-that" smile were delightful. It's a shame he never came back to film again, I would have liked to see him in more movies. I also like that he said he normally gives the spankings, not takes them. His bottom got nice and red. I have a thing for being matched up and his bottom matched his ensemble quite well :)

Very nicely done, Dave. Even though George was a one-time shoot, his only film is a gem. Kudos to Art as well on the editing end. Good work, guys,