RELEASED: 13th November 2013
Ben & Karl - The Humilation - Complete Compilation
This movie was originally sold in two parts and is now available in this bonus compilaiton for just $14.99!
This speciall offer saves you $9.99 compared to buying both movies individually!
Part One
The Saga of the Footballers Awards ceremony Continues!
Cocky Ben has behaved very badly! He spiked 18 year old Karl's drink with Viagra and then locked him in the toilets! Karl could not find a way out and was trapped in there all night long! His parents were frantic with worry and called the police!
So Ben has been brought to justice! He was sent to see Mr X (the local community spanker) for punishment! Ben thinks he is a tough guy and reckons a spanking is a small price to pay for the fun of the previous night! He is already over Mr X's knee awaiting his punishment when Mr X introduces the surprise guest. He has brought along Karl to watch Ben receive his punishment!
Ben can't bear it! The humiliation is too much! But he realises he has no choice!
So once again, Ben drapes himself over Mr X's knee to receive his punishment! Ben really struggles and can't stand the fact that Karl is standing there watching and laughing!
Things then take a very interesting turn when Mr X receives a phone call and has to leave the room. Lets just say that Ben soon wipes the smile off Karl's face!!!

""""""More from Mr X! This was a very interesting shoot indeed! It was certainly Ben's toughest spanking to date. This was actually shot just before his birthday spanking. The truth is Ben is in real life a shy guy. He really struggles with the pain of spanking and having Karl there watching was a real issue for him! All adds up to a great movie!"""""""
Part Two
This movie continues from exactly where Part One ends! Mr X walk in to discover innocent Karl over Ben's knee getting his bare bottom spanked!
Mr x rescues young Karl and he is furious! Ben soon finds himself getting spanked again, this time bare bottom and with Karl watching and laughing.
Can the humiliation get any worse for this strapping football player?
Yes it can!
Mr X decides that since Ben aggressively spanked Karl then it would only be fair that Karl gets revenge! Ben can't bear it. He finds himself facing the ultimate humiliation as the older player lies over Karl's lap and gets his bare butt spanked.
Ben will surely think twice before picking on the younger players!
STREAM
VIDEO
Available streams for iPad, iPhone, Android, Chrome, Safari, IE or Firefox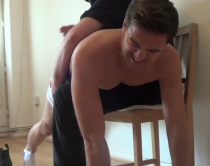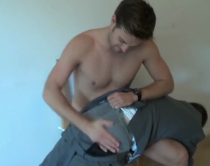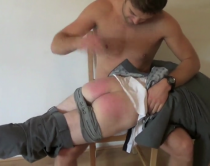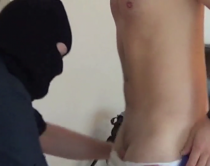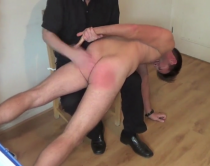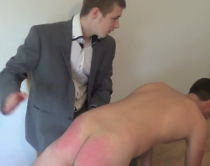 wardcoleman
|
Voted Video 10/10
| 13th November 15:09
A very erotic story, seeing Ben humiliated was a delight, almost as much fun as seeing Bailey's comeuppance in "Bailey Bullies Apprentice"



Dave - Straight Lads Spanked
|
Not voted video yet
| 24th November 00:44
Thanks Ward! Well to be honest, the original idea for this kind of storyline came from yourself! :)

Great story so funny locked in toilet ,spiked with viagra ,couldn't stop laughing when Mr X said Karl's girlfriend would be happy ha ha .Poor Ben really was humiliated but took his spanking well shame he's not much of a talker would have liked him more and Karl my cute little boy those big eyes of yours and that cheeky little grin always makes me want to hug you and you looked so cute in that suit that was way to big for you {was it yours Dave]