RELEASED: 1st May 2014
Patrick - Wait Till Your Father Gets Home
Patrick has been sent to live with his Uncle. With his own father no longer around, his brother Andy was struggling to keep Patrick under control so sent him to live with his Uncle Dave.
In less than one week Patrick has manged to get arrested for having a drunken fight in a pub.
Uncle Dave knows what Patrick's father would have done if he was still around so decides to take matters into his own hands.
Patrick gets a taste of the belt!
This young straight lad faces the humiliation of stripping naked and getting his bottom whipped by Uncle Dave's belt.
The punishment is hard and Patrick's cheeks soon turn from a pale white to bright red. You can see the red stripes building as the belt leaves its mark.
Patrick is left very sore and sorry!
""More from Producer Dave.....Well even though this movie is not officially part of the Real Punishment Series, in a way it kind of is. The story about Patrick getting arrested for fighting really happened and in fact he missed a film shoot becasue of it. You can read more about that here and watch a free video interview here!
STREAM
VIDEO
Available streams for iPad, iPhone, Android, Chrome, Safari, IE or Firefox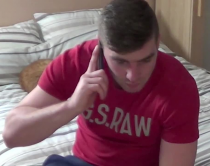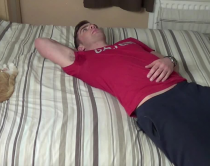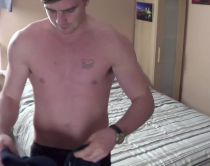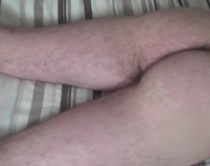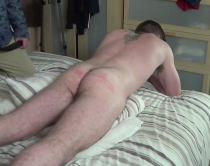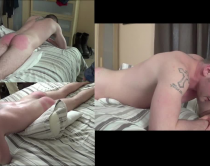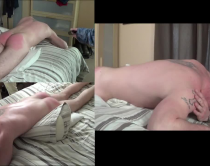 Aimee1234
|
Voted Video 10/10
| 1st May 09:38
Great video. Anything with Andy or Patrick deserves a 10 in my eyes :) Good job Dave & Art as usual.

lorilee
|
Voted Video 10/10
| 1st May 09:47
I must have lost my words. Patrick you remained in character very well , I know Dave was really laying on the belt to your butt, hope it helps you make better choices before you get in trouble. Dave and Art thank you for putting this one to gather for us. The cat always looks so sweet and right at home with any of the models and adds a homey felling to the film thanks. Patrick you have come a long ways and only get better keep it up , watch that temper you and Andy shear .

DoberDork
|
Voted Video 9/10
| 1st May 11:46
Yay, Patrick is back! And wow, did that look sore! He did a great job taking a hard belting. I really like the continuation of the story line from BIC. It was also a very nice touch having Patrick call Andy to ask if Andy would help get him out of a belting. I could hear Andy giggling at beginning of the call. :) And I agree with lorilee about the sweet cat; it was absolutely adorable the way it seemed to mimic Patrick laying on the bed and definitely gave an "at home" vibe to the movie. As always, thank you for your excellent work Dave, Patrick, and Art!

r1108
|
Voted Video 9/10
| 1st May 14:09
It was finally a sunny day after three days of what can only be described as mini-monsoon weather; had a great training session with the horse and came home to find an early posting and Patrick :). In the interview Patrick had indicated he didn't want the belt used, so that also added a little more to the vid as the true apprehension was clearly visible. I also viewed this with the thought of how Patrick reacted to Andy's birching and am guessing this will make, or help anyway, Patrick think twice about fighting. As DoberDork pointed out the call to Andy was a nice touch, although, Patrick should have known that was a hopeless action :). One question that comes to mind is if any of the models have actually hesitated in making a decision or move due to the fact that you, Dave, can turn a bad decision into an active scene. The cat, Charlie right(?), is going to start demanding equal recognition for his superior acting work and payment in the form of fancy cat treats :). Another great production by all; but then, that IS the norm here which is why this site does so well.

Dave - Straight Lads Spanked
|
Not voted video yet
| 1st May 15:18
Glad you enjoyed it Aimee1234 & Lorilee. The cat was really cute in this movie and yes, the belting was especially and this time!

Dave - Straight Lads Spanked
|
Not voted video yet
| 1st May 15:22
Hey DoberDuck, I'm really glad that you noticed and enjoyed the continuation from the Brother In Charge movies. To be honest, when I filmed the first Brother in Charge I thought that would be it1 I too get excited about how the story has grown. It means a lot to me to when the movies link together. In fact I get a little obsessed about it!



Dave - Straight Lads Spanked
|
Not voted video yet
| 1st May 15:29
r1108, I'm glad the early posting was a nice surprise for you. So let me tell you about the call to Andy. The call was actually genuine in that Andy was not expecting it! There was no acting there, Patrick really did call his brother and Andy reacted accordingly! I really like that bit too! It's a good question r1108 but to be honest, I'm not really sure. I think the best example I can give is Oliver and Andy have definitely behaved differently and made better choices due to the help and support that Straight Lads Spanked has given them. You will find out more about the help Andy has had real soon! Yes it is Charlie the Cat though in this movie he was playing that part of 'Scamp'. To be honest he is becoming quite a diva and his on-set demands are becoming more and more extravagant! The list includes things like 10 minute tummy tickles and fresh chicken wings to gnaw on! :)

Domfan
|
Not voted video yet
| 1st May 17:00
Gotta love Patrick. Nice fluffy bum. Nice cock and balls. Stunning eyes. Mr X should have put cream on his sore bum.

Rasputin
|
Voted Video 9/10
| 1st May 18:49
Patrick is one of my favorite models - good-looking, athletic build, clean-cut, and a demonstrative response to a spanking. He did not disappoint in this video. I enjoyed Charlie's supporting performance, too!

I would have given this video a 10 out of 10 if Patrick had been wearing tight-fitting, skimpy briefs and he had been belted on the seat of his briefs for about 4 minutes or so before "Dad" pulled his briefs down for a "bare-butt finale".

bruno
|
Voted Video 10/10
| 3rd May 03:02
i think Patrick is too cute to spank lol he should do all the spanking from now on, he really didnt want to be belted as he said prior to this movie so it took a lot for him to go through with this, Andys response to the call made me laugh as he was laughing and then made the call realistic, well done there boys, glad to see Patrick back he is such a good looking guy and he did really well in this movie, what a sore bum he got, that belt sure leaves marks 10 out of 10 for this movie

uchikimatsu
|
Voted Video 7/10
| 3rd May 07:04
Ok, I hoped I don't get flamed by other members for my rating here and everyone hears me out. Dave asked us to make careful considerations on our ratings and that's what I'm trying to do. I very much enjoy the WTYFGH series as I think it embodies everything the site is supposed to convey, and this movie was good, just not the best example. To me, it had a kind of "rushed" feel to it, sort of like everyone had somewhere else to be that day.

Details I loved: continuity with Brother in Charge- this was the best part, it feels like you are building a whole new series and complex characters there!, fresh paint, new clock, Charlie looking like a Diva, the desperate phone call to Andy, Patrick's ability to get glassy-eyed when punished (a valuable skill when you're a spanking model), Uncle Dave's "softer" scolding because of the circumstances,

Details I loved not so much: I missed the spanking starting on the briefs or boxers, a man might get nekkid for Dad if thats what was normal in his childhood, but not so sure for Uncle. I thought the beginning could have used some clock-watching music, one of those melancholy tunes used in the other WTYFGH vids, or one of them even had just a ticking clock noise. I think this is part of the "rushed" feeling I got. As part of the "whole punishment" philosophy, we should experience the dread and anticipation with our spankee, and I did not get that here. While watching I also thought it would have been cute to see faded transitions of scenes with both Charlie and Patrick in different positions on the bed as time passed. I would have liked to have heard what Andy said on the other end of the line via subtitles.
PATRICK DID NOT LOOK INTO THE FACE CAM ONCE! GIVE THAT BOY A COOKIE!!!!

uchikimatsu
|
Voted Video 7/10
| 4th May 11:33
Can someone please link to me or tell me where the interview is with Patrick saying he doesn't want the belt? It's mentioned a few times but I can't find it, much thanks!

Dave - Straight Lads Spanked
|
Not voted video yet
| 4th May 12:07
Good point Uchikimatsu. I've just bumped it up to the top of the blog post list and added a link in the win description.