RELEASED: 1st June 2012
Part One! Bailey is back doing building work for Old Mr Smith. Young Billy has also started working for the company as an apprentice and it's his very first day. The lads are met on the job by Old Mr Smith's son Danny who is going to be be taking over the day to day running of the company from his father. Danny welcomes Billy to the company and makes sure that both he and Bailey have everything they need to get on with the days job. Danny leaves them both to get on with the job and tells Bailey to look after young Billy.
As soon as Danny has gone Bailey starts ordering Billy around! Sending him down to the van to fetch his newspaper, then his drink and so on! Billy is terrified of Bailey and just does as he is told. Bailey goes on and on at Billy making the poor lads first day at work a complete nightmare! It's when Bailey starts to use Billy as a footstool that Billy finally loses his cool and tells Bailey that he is going to complain!
Big Mistake
Bailey picks Billy up with one strong arm and with the poor lad dangling in mid air proceeds to spank his bottom! This is not what Billy was expecting at his first day on the job! Bailey then throws the lad over one knee, pulls down the lads trousers and continues the spanking over his tight black boxers shorts. Finally these get ripped down and Bailey the Beast lays into the lads bare bottom!!
Just in time Danny the boss returns and catches Bailey beating Billy!
Billy has been rescued!
Danny decides that the only lesson Bailey will ever learn is one of sheer humiliation. He tells Bailey that he is going to get spanked with Billy standing by watching every slap! This is too much for Bailey to comprehend and he refuses point blank! Danny stands firm and simply tells Bailey t pack his tool box and leave! Faced with that stark choice Bailey gives in and drapes himself over Danny's knee to accept his fate! As the spanking continues Bailey can feel the slaps on his bottom but even worse can feel the gaze from young Billy who is watching with glee as the tough man is taken down to size!
The show for Billy gets even better when Bailey is first of all stripped of his jeans and then finally stares on as Bailey loses any last traces of dignity when his tight white briefs come down and lying fully exposed gets his bare bottom spanked hard!
Finally the humiliating punishment is over and Danny leaves the two lads to finish the job.......
There is an unexpected twist at the end which leads nicely into Part Two and even more punishment for Bailey!
Part Two
There is no real need for a long description here... Following on from Bailey bullying poor Billy he is sent to see Mr X!
If you enjoy seeing a straight, muscular guy get a relentless over the knee hand spanking and slippering then you will love this movie!
Mr X is angry! The only time he is not spanking Bailey's bottom is when he is verbally tearing into him. Bailey can hardly stand when Mr X is finished with him!
For the viewer - 14 mins of sheer pleasure. For Bailey, 14 mins of pain!
Enjoy!
STREAM
VIDEO
Available streams for iPad, iPhone, Android, Chrome, Safari, IE or Firefox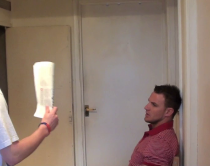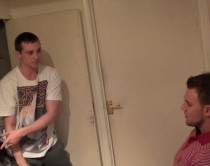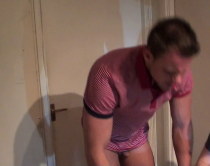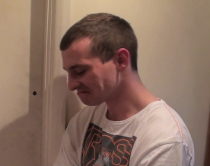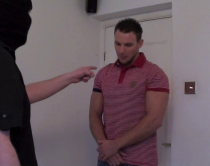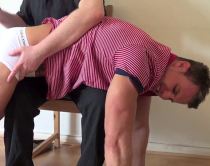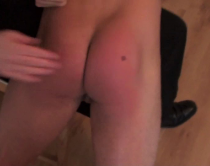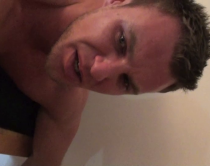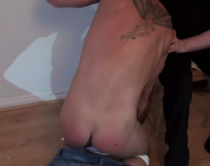 cami
|
Voted Video 10/10
| 22nd February 15:51
YEP i really love bailey 's performance's on this site. He is 1 of my favorites an awesome Actor when he acting. But when he gets spanked you know you feel somewhat feel sorry for him. lol . I sure hope i will see more of Bailey.

Mr X
|
Not voted video yet
| 28th February 08:32
I thought all the guys were great in this movie. Especially since none of them are actually trained actors. Billy was great too. But yes, arrogant Bailey was a joy to watch! :)

cami
|
Voted Video 10/10
| 5th March 08:31
Mr. X , your are ABSOLUTELY right. They all did a great acting job. so for that i want to apologize to Danny & Billy. You two also did a awesome job. I'm a type of person when i know i was not fair i will say i was wrong. :)

Mr X
|
Not voted video yet
| 5th March 13:40
Awwwww! I wasn't annoyed Cami. Bailey was exceptional in this! My favourite line was when Bailey asked Billy "Can You Read"? And simply handed him the instructions for the boiler and told him to get on with it! :p

cami
|
Voted Video 10/10
| 7th March 09:24
LOL @ Mr. X.. My favorite line is when Danny said you want me to stop bailey & bailey said yes & danny said sure. lmao . that one cracked me up. the other one is when bailey said to billy i asked you for marlboro lights & you talk back to me & bailey almost broke character when he laughed a little bit. .. lol

Bailey really is a great actor loved him being the bully so funny but seriously it was too easy Billy was too gullible should have told him to fuck off 'can u read' ha ha .Bailey so strong love it when he picks up the younger guys and spanks them, but oh Danny i really like him too and of course Mr X harsh as usual no sympathy for a bully and rightly so

whoops forgot to vote 10/10