RELEASED: 12th December 2012
18 Year old Lee has been staying with his Uncle Andrew whilst attending college. Uncle Andrew was not happy to receive a phone call from Lee's college tutor explaining that Lee had been caught setting off Fireworks in the college grounds.
Uncle Andrew was waiting for Lee the minute he returned home!
"Have you been misbehaving?"
"No Uncle Andrew, I didn't do anything, it wasn't me"
"What's this in your pocket then?"
Uncle Andrew tells Lee that if he is going to behave and tell lies like a naughty schoolboy, then that is how he will be treated!
Lee is told to go for a shower and put on the clothes that his Uncle has left out for him to wear.
Lee strips off and takes a very revealing shower!
"Lee can't believe that he has to put on a school uniform!"
"You will write out, I must not be a naughty boy"
"Get over my knee"
"No Uncle Andrew, I'm too old to be spanked"
"Stand in that corner and think about your actions"
"Please stop, my bottom is really sore"
"I won't stop till your bottom is bright red"
"Now you will go to your bed without any supper"
STREAM
VIDEO
Available streams for iPad, iPhone, Android, Chrome, Safari, IE or Firefox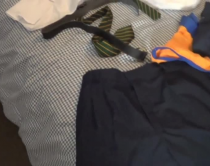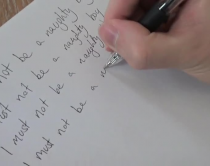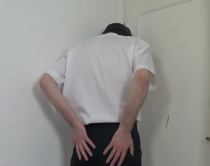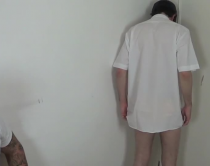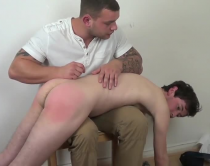 taltos28
|
Voted Video 6/10
| 14th January 11:18
I liked the schoolboy shaming idea (although the hat was naff and reduced the impact). Sorry, but Uncle Andrew did not come across as an uncle, more an older brother. Would have been better as more formal school scenario throughout or informal, but not both.

jockbud
|
Not voted video yet
| 30th October 13:41
like the way that Andy spanks every inch of the ass, from top right down to lower legs, some spankers always leave the upper curve of the buttocks unspanked. Good job. Like how the shorts came down fully and how the spankee was fully exposed when he was over the knee, exactly how it should be. Would love to be spanked by Andy ;-)

Dave - Straight Lads Spanked
|
Not voted video yet
| 30th October 15:02
Glad you enjoyed it! Uncle Andrew does not mess around! :)

jockbud
|
Not voted video yet
| 31st October 12:57
Cheers. Novice spankee here, would love to do some modelling for straightladsspanked. Andy is such a great spanker.

Dave - Straight Lads Spanked
|
Not voted video yet
| 31st October 13:00
Well if you think you have the right look for Straight Lads Spanked, please don't hesitate to send an email to
[email protected]

uchikimatsu
|
Not voted video yet
| 19th May 06:29
Wow, this film really intrigued me as it seems to be different from all the others on SLS for two reasons.  First, it appears to be the only film to include shaming, both with the uniform and the line writing. (another member mentions the hat being "naff" I assume this means "lame" or "wack" in the States? I like the hat *GRIN*) 

(I also find it ironic that in in this film, and any time Andy is dishing out a spanking, he tells the spankee to stop their squirming.  Really, Andy?  King of the squirmers who always looks like he's swimming laps(!) over Dave's knee!) 

Second, and far more fascinating, are Andy's eye contact/restriction commands such as making Lee look at him while removing his pants, or keeping his head down in the corner or at certain other times. I would really be interested to know how that came about, was it spontaneous, who's idea it was, Andy, Dave, or Lee's, etc.  Would love any feedback on this, thanks!

nanarr
|
Voted Video 8/10
| 22nd May 19:29
I'm with you Chiki ... Mr squirmer himself telling others not to? Right!

Also like the scolding and shaming (as long as it doesn't denigrate the spankee), but scolding is the best (before, during, and/or after the spanking). Makes it so much more realistic in any movie, not just in this one. Having to write out lines was priceless lol.

Don't like the hat! Somebody please burn that thing. First time I watched it, the hat was nearly all I could see. Wanted to reach inside the screen and chunk that thing as far as I could throw it!!

Question: whatever happened to Lee? I like him. Is he going to be in anything else?

uchikimatsu
|
Not voted video yet
| 23rd May 03:03
@nanarr - and there is no better scolder than Dave. Anywhere, like, in the history of EVER. There is just something about the way he gets all up in your psychology, lol! He seems to understand the heart of things and can target vulnerabilities very quickly to break someone down in a real punishment situation. Of course, in a Mr. X or "Dad" movie he appears to be doing the same thing, but its difficult to remember he's just making stuff up, and its a model play acting. Half the time I think I see doubt creeping into the eyes of the model when Dave really gets going, as if he can't remember whether he's really in trouble or not!

I too really like Lee and would love to see him return to SLS, especially paired with Uncle Andrew, or Maybe Uncle Andrew and Uncle Patrick both get him good. Or maybe he is hanging out with his cousin Dan, and they both get it from Andy.....oh dear, my imagination.....

nanarr
|
Voted Video 8/10
| 23rd May 19:23
Atta girl, Chiki! Great imagination (it can be scary sometimes what comes up from those deep recesses in our brains? LOL)

Dave should get a patent on scolding ... he's the best, bar none!

I was thinking maybe Uncle Patrick could show some new found maturity (Patrick?! LOL) and put Dan and Lee across his knee for some infraction. In BIC Patrick had Dan selling drugs and you know Dan or Lee will bring this up to Patrick and get themselves in worse trouble: harder, longer hand spanking or take his belt to them!. Since Patrick hates the belt so much for himself, see how it works for him to use his belt on someone else.

Maybe Patrick could take Dan (since he hasn't spanked him yet and Andy has) over his knee and Uncle Andy could take care of Lee again? poor Lee). Of course, all of this with lots of scolding: Andy is really good at that and Patrick isn't a slouch at it either! Watch Brothers at War when he spanks Andy and scolds him for cheating with his sister-in-law. The Brother in Charge series, and its offshoots, is a lot of fun and I would enjoy seeing it continue.

(Dave, could you ask Patrick not to cup his hand when he's the spanker? Don't know why, but the spank doesn't seem as effective with a cupped hand as it does with a flat palm. I also have noticed you don't cup your hand when giving a hand spanking.)

uchikimatsu
|
Not voted video yet
| 23rd May 23:04
I like your thinking, nanarr, all great ideas! It seems the BIC vids have a life of their own (or is that just in my head?) and have real potential to be an ongoing serial drama, LOL...ok, a series, like WTYFGH, or BBB. I typed "BBB" thinking Bubble Bath Blues, but that could also stand for Bath Brush Beating, LOL.

I'm not so sure I agree with you on the Lee's scolding finesse, but maybe thats because I've been spoiled by Dave. The thing is, when Andy is spanking, Dave is surely directing, so I'm wondering if he could help a brother out with a line or two sometimes. pun intended :-P

I LOVED the first half of Brothers at War, but wasn't fond of watching Patrick spank Andy. I think at least some of it was a birth order issue for me. Another reason I didn't enjoy that half is because Patrick didn't spank Andy for cheating on his girlfriend as a rightful punishment for wrongdoing or disciplinary incentive to improve behavior. Patrick clearly spanked Andy for revenge. When Andy spanked Patrick he simply did it because Patrick betrayed his trust and did wrong; Andy had good reason and they both knew it. When Patrick spanked Andy he created a dilemma in order to do it, similar to thosse presented in Mr. X films. If you don't take what I dish out here, the consequence will be worse out there. The person has a choice, but its never much of a choice. Especially threatening to be a tattle-tale and interfere in someone else's relationship. That should have earned Patrick another spanking on the spot.

You and I are thinking the exact same think about Patrick cupping his hand. When I saw it I was wondering what the heck he was doing. I could only imagine that he:

a) didn't want to hurt his brother
b) was afraid to hurt his brother for fear of actual off camera retribution

It might have been the only way Andy got through the spanking, though. You know, if Patrick hadn't done that Andy would have wound up on the floor long before Dave could get any decent film :-D

Dave - Straight Lads Spanked
|
Not voted video yet
| 24th May 10:14
Hi, ok so let me explain more about this movie! I'll tell you something. You members don't miss a trick!

This video was actually very different in that it was commissioned by someone. They came up with some ideas and part-funded the movie. It was my job to take these ideas and make them work in a SLS movie that would generally appeal.

One of the requests was the traditional school uniform. I struggled with this for a little while as I didn't want to try and make an old-fashioned school story (there are other studios out there that do that sort of thing far better than I ever could). Also realistically, in a modern day setting it would be very unlikely for a lad of Lee's age to be wearing a school uniform with shorts and so on...

So I took the basic idea and came up with the whole Uncle Andrew humiliating Lee story. I was really pleased with that and thought it worked really well. In my head, if only Lee had written out his lines as instructed that would have been the end of the punishment, but boys will be boys!

Most of the stuff from Andy, like the eye contact was spontaneous and came from Andy. However, there were some elements that were part of the initial movie request

uchikimatsu
|
Not voted video yet
| 24th May 13:35
I knew it! (and you thought I was kidding about enjoying details? I pay attention!)

And when I win Lotto I'm going to hire my own team of personal film producers and models to be my puppets and put all my twisted little fantasies on film... just for me...BWAAAH HAAAA HAAA HAAA HAAA!

nanarr
|
Voted Video 8/10
| 27th May 21:00
Thank you and Art for another enjoyable video.

Dave, don't know what the commissioner's ideas were (except for the school uniform), but you blended their ideas and your ideas into a very entertaining movie. Again. Seems like it would be harder to put in someone else's ideas rather than come up with the whole thing yourself, except for input from the models, which brings me to Andy.

Andy really added to the show by being so spontaneous and natural. Actually, that's pretty much Andy being himself, isn't it?

Lee was good as the silly kid who thought he could get away with lying to Uncle Andrew's face while having the evidence in his pocket! Whomever had that idea, it was funny!! Of course, to me, the funniest part was Lee's artwork when he was writing out lines. How did he think he was going to get away with that?

Now, about Patrick cupping his hand ...

uchikimatsu
|
Not voted video yet
| 28th May 07:24
@nanarr I liked the artwork too and the way Lee throws down the pen in a little tantrum.
Since you are watching these more recently now than I am, and we were talking about Andy telling people not to squirm, do you happen to remember in which film Andy uses the phrase "be at peace" while spanking someone? I just found that to be at once unusual and charming, and probably really regional.

@Aimee1234 - can you offer any insight?

@Dave - please do offer spanking lessons. No cupped hands, that's cheating! Lol!

Tantrums, tantrums....hmmm. Yes, ideas forming. No one's really had an all out tantrum on SLS, have they?

Aimee1234
|
Voted Video 6/10
| 29th May 08:55
Insight on the phrase "be at peace"? Is that what you mean Chiki? You would hear that quite often in mine & Andy's neck of the woods yes. It'd be most frequented in terms of running about the house like a mad thing and your mother or father shouting in at you "oh would you just be at peace."
That was my mums favourite line when she was washing & drying my hair as a child and I was wriggling about on the floor in front of her. "Oh in gods name Aimee would you sit at peace for goodness sake." Haha!

I liked this movie a lot. I like Lee and Andy is a great spanker however for me Andys place will always be on the receiving end :-) unless he wants to come and dish a spanking out to me of course which would be the exception.


r1108
|
Not voted video yet
| 29th May 10:45
The American equivalent might be "chill out" :). I have heard Mr X use the same term, once with Sebastian, think it was in Sebastian's first vid about feeling guilty for cheating on his fiancee and I seem to recall one other time but not the specific vid now, oh wait, one of the WTYFGH vids...with Oliver maybe? I thought it kind of a strange phrase but then decided that due to the accent, maybe I was hearing it wrong and he was actually saying something about staying in place (due to the excess squirming going on at the time).