RELEASED: 20th December 2012
Jack is in a sorry state!
No job and living with his girlfriend. She is paying for everything. Jack borrows his girlfriends car to go and play computor games at his mates house. They have a great time and enjoy some beers!. Jack has one to many and rather than doing the sensible thing and sleeping at his friends house, Jack stupidly decides to drive home.
His girlfriend is furious! This has happened one time to many! She offers Jack an ultimatum. Either you go and visit the local spanker Mr X or she calls the police.
Reluctantly Jack goes to Mr X, fearful but unsure as to what awaits him. Jack knows he has messed up and offers no excuses. When it comes to drunken drivers Mr X offers no leniancy. Jack is told he is going to face an over the knee spanking!
Mr X clearly has no time for irresponsible drivers and really lays into Jack. Jack is stripped of his jeans and underwear and has his bare bottom soundly spanked. This sorry straight lad thinks it can't get any worse. He is wrong! Mr X orders Jack to remove the thick leather belt from his jeans and pass it up. Jack can barley take it as Mr X proceeds to whip his bare butt with his own belt!
Mr X decides Jack has had enough of the belt. But the punishment is still not over. Jack is left protesting and wriggling over Mr X's knee as his already battered buttocks take a further hard hand spanking.
Jack is left shocked,, sore, sorry and vowing never to return again!
"""""More from Mr X, this was the first adult movie Jack had ever shot and it was his first time getting spanked! He was a joy to work with and really wanted to make a great movie. He took a really hard spanking for his first time. I really think you will all enjoy Jack!""""""
STREAM
VIDEO
Available streams for iPad, iPhone, Android, Chrome, Safari, IE or Firefox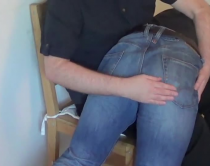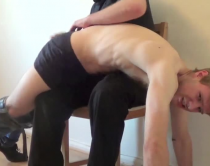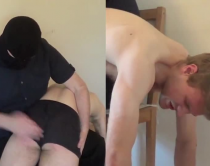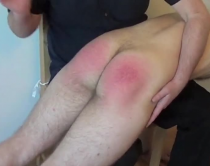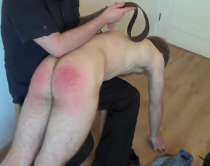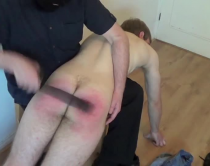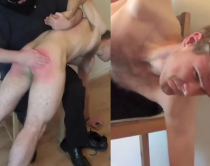 taltos28
|
Voted Video 10/10
| 10th January 10:55
Superb. The lecture was convincing, as were Jack's reactions. The spanking was terrific, very well balanced with facial expressions. Good camera-work on facial reactions makes it for me. Afterwards Jack was a suitably chastened lad. Hopefully he hasn't learned his lesson so well that we won't see him back for further medicine soon.

hanluke
|
Voted Video 9/10
| 24th January 21:26
I signed up because I saw Jack. :)

cami
|
Voted Video 10/10
| 29th April 13:17
AWESOME spanking, i loved it a lot. Jack got what he deserved i can watch this movie over & over again. & i did not feel sorry for him ether. Great job Mr.X on spanking jack & jack you took that spanking like a champ :)

cami
|
Voted Video 10/10
| 29th April 13:18
going to down load more of jack's movies if he has anymore that is .


Dave - Straight Lads Spanked
|
Not voted video yet
| 4th May 04:11
No more from Jack at the moment... I would like to film something new with him though

Dave - Straight Lads Spanked
|
Not voted video yet
| 4th May 04:12
I agree! Jack really did deserver his spanking in this movie and he took a very hard spanking very well indeed! One of my favourites

davidzjt
|
Voted Video 10/10
| 2nd September 08:33
Also I decided to sign up because I saw this story. Love Jack's performance and the story. Dave! Please have more films like this!! Love this type of story! :)

Dave - Straight Lads Spanked
|
Not voted video yet
| 2nd September 08:38
This was rated number one for ages! I'm afraid as yet Jack has not come back to shoot any more. I am still trying though. However, don't worry. There are lots more new, hot models going over Mr X's knee still to come! What was it in particular that you liked about this movie?

davidzjt
|
Voted Video 10/10
| 5th September 14:41
Err.. Hard to say.. just a feeling.. I guess it is because Jack is mature enough and wears mature clothes, and he looks really nervous. :) And the story is attractive as well. Thanks Dave!! I enjoyed the newly updated one with Clark too! :)))

leatherbelt
|
Voted Video 4/10
| 5th December 20:23
Hi, I really enjoyed watching this movie specially the part where Mr. X gets the belt from Jack's jeans. I liked for Jack to get more strokes from the belt though as drunk driving is very serious. It may cost a life and I think that hand spanking is not enough. Jack should at least have gotten 50 strokes from his own belt bending over a sofa or bed like the wait till your father gets home movies and the same number of strokes from Dave's famous belt.

leatherbelt
|
Voted Video 4/10
| 5th December 20:27
How do you give a rating. I am supposed to give it a rating of 7 or 8

stevex54
|
Voted Video 5/10
| 9th January 22:53
I liked the scenario for this one. Plus, Jack took a hard spanking very well and possesses a fantastic bottom. I also liked the way he had dressed for the occasion-the jeans were a definite turn-on and the young man looked suitably anxious and very penitent by the end. Excellent !

Dave - Straight Lads Spanked
|
Not voted video yet
| 9th January 23:01
Thanks Steve, as it happens this was voted the number one favourite movie for a long time. I always wondered why that was. I don't think actually it was just one thing but I think two things you mentioned made a huge difference. Jack did look really terrified! Also, he took a really, really hard spanking! Thanks joining in and commenting.

Domfan
|
Not voted video yet
| 4th September 00:49
That's weird, I'm sure I commented on this one. Ok, well just want to say that Jack us beautiful and I hope he comes back. I live every inch of his body. In fact I think I'm in love again.

Cherylkay
|
Voted Video 8/10
| 19th October 11:21
Yowie kazowie! That sure was a hard spanking! That's what we in the Midwest would call getting your ass blistered. And Jack took it really well, too. It's a shame he never came back to shoot anymore because I think he would have been really popular. He was great looking and took a hard spanking. My only complaint (and this is minor) was that I lost track of how many times he answered a question with a simple "yeah".

I can see why this one was Number One for so long--it had a very attractive model, a hard spanking and a story line that probably resonates with a lot of people. I can only count one other person who got the belt on his first visit. Very, very well done.